As part of a modernisation process The Arts Society (previously NADFAS) is working on a restructuring process for societies. National Trustee Hilary Alcock, who was also our first Chairman, suggested that The Arts Society Fylde should be a pilot, keeping a diary and reporting on our progress and problems as we go along. A document explaining the pilot is available here.
The Committee has agreed to participate in this pilot study and restructure itself using a model currently being formulated and under discussion amongst The Arts Society National Working Group but which is customised to The Arts Society Fylde.
The structure of The Arts Society Fylde comprises an Executive Committee and a number of Teams. The Executive is responsible for governance and strategic planning.
The Executives are Chair, Vice Chair, Secretary, Treasurer, Membership Secretary and Programme Secretary:
Pat Corless: Chair
A range of management roles in the NHS left little time for other activities but, following early retirement, I have been able to indulge my enthusiasm for foreign travel, attending the theatre and classical concerts, collecting porcelain (especially Royal Worcester) and extending my knowledge of painting. My husband, Gerry, introduced me to The Arts Society Fylde and my involvement with the Fylde team has given me a great opportunity to pursue my interests and make new friends in my adopted home of Lytham St Annes.
Nigel Bramley-Haworth: Vice Chair
I am a retired dentist and live near Blackburn. My hobbies include reading, going to the theatre and attending music concerts, especially opera. I am currently learming to play the bassoon. Since retiring I have travelled extensively.
Christina McHugh: Hon. Secretary
My grandmother worked "below-stairs" at Speke Hall before she married. As a child I spent summer holidays exploring the grounds, which kindled a fascination for old halls and manor houses. Later I spent lunch-hours at the Walker Art Gallery, sparking a love of paintings and sculpture. I'm also interested in literature and have an MA in Creative Writing. I worked as a bursar and on retirement as clerk to governors of two primary schools. I joined The Arts Society Fylde to widen my perspective and knowledge through the variety of lectures and Special Interest Days.
Jean Holland: Hon. Treasurer
I have always been fascinated by all forms of art & design but trained after school as a Tax Officer and worked in Manchester. My formal Art education came much later when I took my degree in Fine Art and spent a brief spell teaching art. I was a member of Samlesbury DFAS and joined the Fylde Society at its inception. My other interests are painting for pleasure, golf, bridge and visiting art galleries at home and abroad.
Pam Foster: Communications
I worked in the business information sector as an editor/consultant/researcher for most of my working life. I have a general interest in the arts, especially modern art, and am particularly interested in design.  I joined The Arts Society Fylde to improve my knowledge of art and to meet like-minded people. I am also a founder member of the Friends of St. Annes Library, and am a volunteer at Blackpool Victoria Hospital on behalf of the Epilepsy Society.
Denise Malpas: Membership Secretary
I grew up on the Fylde Coast and have recently resettled here after a career in Higher Education and Social Research. My early interest in dance and theatre was fostered locally and led to a course of undergraduate study in Drama and Education. I joined DFAS – now The Arts Society – a number of years ago in order to support and further develop my cultural interests. I have taken an active part in the activities of the Society, and my particular interests include embroidery, textiles, art history and regular visits to art exhibitions.
Pauline Hamilton: Programme Secretary
Since retiring from my career as a physiotherapist I am now indulging myself and pursuing my interest in the Arts. For me there has been no better to do that than being a member of The Arts Society Fylde. My other interests include walking, bridge, the Community Choir, getting together with family and friends, and the odd sailing trip with my husband Michael in his very lively half ton yacht.
Team Leaders
Rita Calvert: Events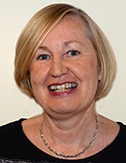 I was born in Northern Ireland and moved to the Fylde in 1977. I taught Science in a primary school until 2004.  My hobbies are reading, badminton and gardening. I have always been interested in the Arts and I joined The Arts Society Fylde in 2011. I enjoy the lectures and find the topics very interesting. I also enjoyed being involved with The Tagging the Treasures project.
Pam Foster: Communications (details as above)
Pauline Hamilton: Programme (details as above)
Jacqueline Love: Heritage, Church Recording, Church Trails
I have worked in the creative industry for some years as an artist and freelance photographer. Recently graduated with a BA (Honours) Arts History Degree, I discovered the Arts Society Fylde Tagging the Treasures project. Researching the Lytham St Annes Art Collection with this vibrant group was inspiring and I enjoyed managing the project. I love the excitement of new projects and challenges that make me think.
Our President
Hugh Ellwood: President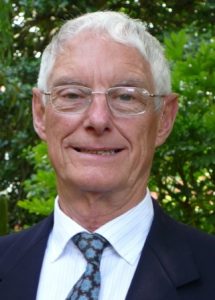 Hugh studied philosophy in Rome, followed by a degree in architecture at the University of Manchester. Previously an architect partner with Building Design Partnership, the largest multi-discipline design organisation in the UK, he was for some years an external examiner in architecture at the University of Manchester. For several years Hugh was a visiting lecturer in the history of art and architecture at the University of Central Lancashire. Hugh is a watercolourist who has also lectured extensively to various societies and organisations, including cruises, on art and architecture.
Our Photographers:  Ged Curley, Tess Tackett and Jacqueline Love
A retired graphic designer, Ged is a keen photographer and now takes the majority of the Society's photographs.
Jacqueline has  worked in the creative industry for some years as an artist and freelance photographer. She recently graduated with a BA (Honours) Arts History Degree.