Countryside Matters
The Artroom Gallery shows a limited number of original artworks on the walls in the gallery alongside its regular craft pieces. New artwork is shown every three months usually with a seasonal theme.
This season's exhibition is:
Countryside Matters
This exhibition celebrates mostly animals and wildlife in the locality. There are also some paintings and prints of the surrounding landscape.
Artist Jayne Lancaster from Carnforth depicts animals in a delicate appealing manner using earthy tones which are suited to her subject manner hare, deer, foxes amongst others
Katie Hamspon is a talented young artist from Fleetwood who has shown in the gallery a few times. She has developed her own distinctive style, painting with colour, dymanism and vivacity.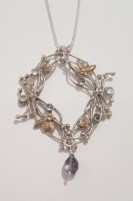 Xuella Arnold makes interesting and pretty pieces of jewellery featuring hares, birds, deer and flowers.
Simone Noble is a ceramics maker from the north east who has created sheep and highland cows in various ways- singles, pairs, in walled circles, peering over gates.
Artroom Gallery was established in September 2007 with the aim of highlighting talented UK artists and designer-makers, giving the public the opportunity to purchase special, unique, hand – crafted artworks. Lancashire and northern artists feature prominently, many of whom are members of Made in Lancashire Arts and Crafts, some from Garstang.
Artwork is carefully selected by The Arts Society Fylde member and owner Helen Carr and visual consultant Linda Robinson with the emphasis on beauty, quality, and originality. The Artroom Gallery streams with light making it an ideal space for viewing art and craft. Helen and Linda both have art degrees and will offer advice and knowledge about the artwork offering help with selection, sourcing and hanging of pieces.
The gallery presents a range of affordable, unique hand-crafted artworks including paintings, prints, ceramics, glassware, and designer crafted, jewellery, textiles and items made of wood.
Exhibitions are held seasonally to showcase the work of particular artists and designer-makers.
You can find news about artists at the gallery on its Facebook page.
Further information:
Open Monday – Saturday 10.00 am – 5.00 pm; Wednesday 10.00 am – 4.00 pm; Sunday closed
Location Artroom Gallery,  15 High Street,  Garstang,  Presto,  Lancashire  PR3 1FA
Tel: 01995 600400; email: helen@artroomgallery.co.uk
http://www.artroomgallery.co.uk/index.php