Autumn Exhibition 'Look North'
Until May 2018
The Artroom Gallery shows a limited number of original artworks on the walls in the gallery alongside its regular craft pieces. New artwork is shown every three months usually with a seasonal theme.
The Look North Exhibition features works from a number of artists.
Terry Hird is exhibiting for the first time in Artroom Gallery. He studied drawing & painting at Sunderland College of Art. A career running a successful design business in Lancaster followed. The processes and procedures used in his profession have influenced the way he interprets and organises what he sees when painting. He is very conscious of selecting subjects that have a distinctive composition and structure. He favours for his landscapes a very high horizon – or indeed no sky at all – and will often depict landscape details in a graphic style. Living in Burton in Lonsdale, near to both the Lake District and the Yorkshire Dales, Terry is not short of inspiration. His passion for the Great Outdoors is clear.
Janet Mary Robinson is originally from Fife but now lives close to Garstang in the village of Forton. Her interest in nature & her love for painting & drawing inspired her to study Scientific & Natural history Illustration at Blackpool & the Fylde School of Art. Since graduating she has worked as a freelance artist, illustrator & art tutor. Of these current series of Canal paintings Janet says ' My main interest is the natural world, watching wildlife & exploring wild places, and the inspiration behind most of my paintings result from a fleeting moment when I am out and about. This series results from my dog walks & canoe trips along the Lancaster Canal near where I live. I love the slow pace of life on the canal, the wildlife, & the overwhelming sense of tranquility.' Janet works in Artroom Gallery most Mondays and is open to undertaking specific commissions.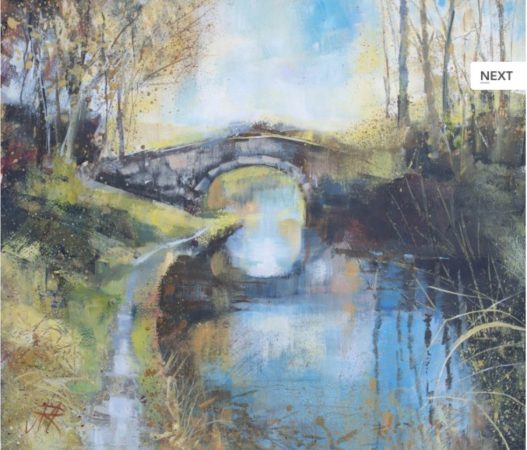 Karen Risby creates contemporary ceramic sculpture wall hangings in her studio in Suffolk. Her work is an extension of her love of drawing, exploring pattern and line using both brushwork & sgrafitto, a process that involves scratching back into the painted surface. She takes inspiration from the nature, myth and story telling; birds are a prominent feature of her work interweaved with landscapes, people and places. She uses porcelain slip, stains & oxides & fires her work to stoneware.
Claire Humphreys is exhibiting at the Artroom gallery for the first time.  From Manchester, Claire makes lovely lamps, some with a distinctly Scandi look. Some feature trees, others flying owls, avocets, hares, flowers and other natural world subjects. Claire has a background in illustration which she has applied to making functional house hold items including lampshades. They come in two sizes and we can order in lampshade versions on request.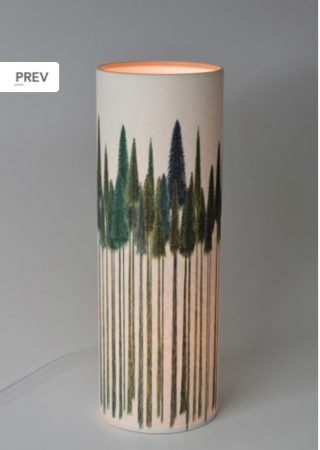 The Artroom Gallery was established in September 2007 with the aim of highlighting talented UK artists and designer-makers, giving the public the opportunity to purchase special, unique, hand – crafted artworks. Lancashire and northern artists feature prominently, many of whom are members of Made in Lancashire Arts and Crafts, some from Garstang.
Artwork is carefully selected by The Arts Society Fylde member and owner Helen Carr and visual consultant Linda Robinson with the emphasis on beauty, quality, and originality. The Artroom Gallery streams with light making it an ideal space for viewing art and craft. Helen and Linda both have art degrees and will offer advice and knowledge about the artwork offering help with selection, sourcing and hanging of pieces.
The gallery presents a range of affordable, unique hand-crafted artworks including paintings, prints, ceramics, glassware, and designer crafted, jewellery, textiles and items made of wood.
Exhibitions are held seasonally to showcase the work of particular artists and designer-makers.
You can find news about artists at the gallery on its Facebook page.
Further information:
Open Monday – Saturday 10.00 am – 5.00 pm; Wednesday 10.00 am – 4.00 pm; Sunday closed
Location Artroom Gallery,  15 High Street,  Garstang,  Presto,  Lancashire  PR3 1FA
Tel: 01995 600400; email: helen@artroomgallery.co.uk
http://www.artroomgallery.co.uk/index.php