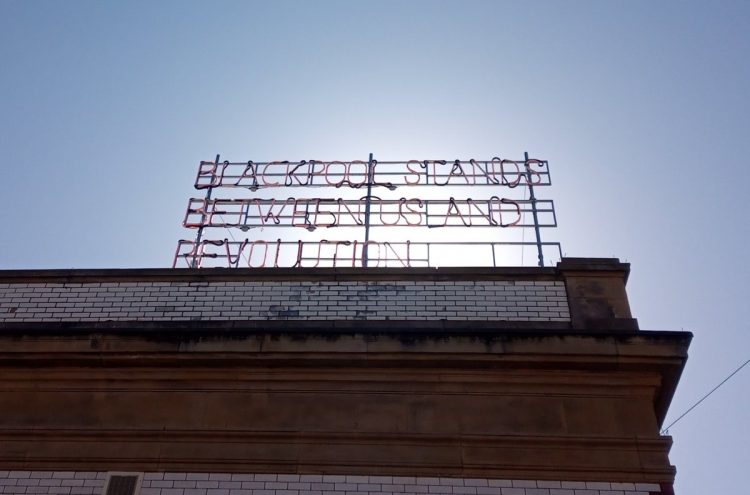 Tom Ireland: Blackpool Stands Between Us and Revolution
–
Blackpool Stands Between Us and Revolution, is an illuminated text-based artwork for Blackpool's civic space. The work is a large-scale rendering of a (mis)quote attributed to an anonymous local businessman, offering insight to the British garden designer, landscape architect and town planner Thomas Hayton Mawson (1861 – 1933) – who oversaw the design of Blackpool's Stanley Park – which underlines Blackpool's vital role within the lives of working people.
The quote – from the 1920s – sits at the intersection of various strands of Blackpool's unique social and cultural history and reappears almost a century after it was spoken at time when Blackpool continues to re-imagine, re-invent and shape its future.
The work is the result of a 2019 open call  commissioning opportunity led by Blackpool Council's Arts Service to provide Blackpool with a number of new permanent and temporary public realm art works.
Tom Ireland is a Blackpool born, raised and based artist and curator. His practice centres on broad notions of space, distance and the things that fill it/them. He is interested in what these things are; their weight, agency and currency – physically, conceptually and ideologically – and the possibilities put forward through their interactions with one another and with an audience, and how they might operate within the wider world and culture in order shape our individual and collective understanding of the spaces around us. His works place great emphasis on subtle interventions and slight gestures, designed to unlock new meanings and possibilities in given objects, images, ideas, histories, and legacies.
Ireland's work has been exhibited locally, nationally and internationally – most recently as part of Mont Analogues, a large collective exhibition, dedicated to Mont Analogue, a story by the author René Daumal (1908-1944) at FRAC Champagne – Ardennes, Reims in 2021.
He has exhibited work at institutions, venues and organisations such as Humber Street Gallery (Hull); titleddateduration, (Manchester); Whitechapel Gallery, (London); Whitworth Art Gallery (Manchester), Baltic Centre for Contemporary Art (Gateshead), Deptford X (London) and Eastside Projects (Birmingham).
Four of Ireland's works were recently acquired into the collection of FRAC Champagne-Ardenne (Reims, FR).
Further information:
Open: Tuesday – Saturday 10.00am – 4.45 pm; closed Sundays and Mondays
Location Grundy Art Gallery, Queen Street, Blackpool FY1 1PX
Further information 01253 478170