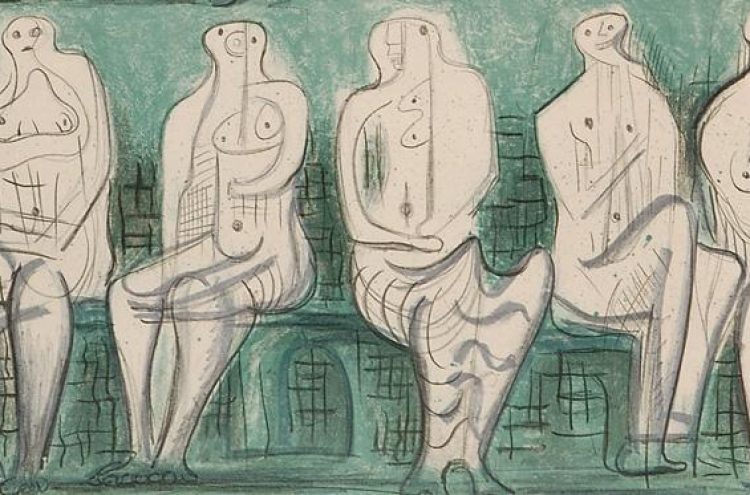 Twentieth Century Lithographs Display
20 March – 22 September 2018
Lithographs by some of the biggest names in the art world are now on display in the Watercolour Gallery.
The display Twentieth Century Lithographs includes prints by Pablo Picasso, Henry Moore and Alan Davie.
Picasso's Le Bouquet (1958) was produced for a peace demonstration. This work highlights how the process of lithography, and its ability to create multiples, opened up avenues for new artists. This allowed them to create works which commented on social change while it was happening.
Invented in 1796, lithography was used to produce printed text and images. The process duplicated existing images as opposed to creating original works of art.
It was only in the twentieth century that lithography was recognised as an art form in its own right, with artists like Picasso and Henri Matisse creating works intentionally as lithographs.
The lithographs on display are:
Pablo Picasso, Le Bouquet (1958)
Geroges Braque, Les Oiseaux Bleus au Fond Noir (undated)
Fernand Leger, Les Amoureux (1953)
Henry Moore, Seated Figures (Studies for Sculpture) (1957)
William Scott, Benbecula (1961-2)
Alan Davie, Lithograph, Blue, Pink & Yellow (1965)
Julian Trevelyan, Moscow (undated)
Mary Fedden, Chiswick (1959)
John Piper, Chateau De Taillebourg (1958)
Lithography was often used to create posters to advertise events such as  art exhibitions, and works could be sold alongside them as limited edition prints. With print runs of up to 250, lithographs were a fraction of the cost of a painting, making them accessible to a wider public audience.
Caption: Henry Moore, Seated Figures (Studies for Sculpture) (1957)
Further information
Open Mon-Sat 10.30am -4/5pm; open on Sundays from 22 July until 16 September
Admission: Adult £7 (without donation £6.35); Joint Gallery & Museum £9 (without donation £8.60); Friends, Patrons & Benefactors FREE; Young people up to the age of 16 and full-time students over 16 FREE; National Art Pass 50% Discount
Location: Abbot Hall, Kirkland, Kendal LA9 5AL
For more information please call 015394 722464