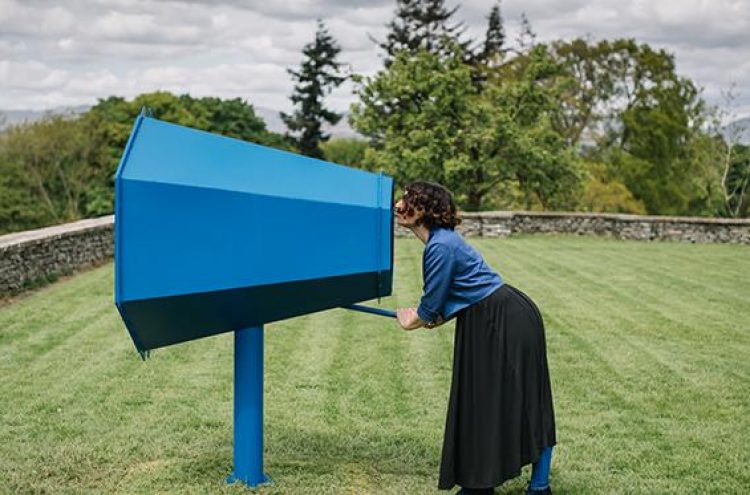 Lakes Ignite Time Mirror
18 May – September 2018
As part of the Lakes Ignite festival, discover Di Mainstone's Time Mirror on our lawn.
This large funnel-shaped structure, made of polished mirror-like steel, reflects our stunning Lake District surroundings.
It also allows audiences of all ages to experience and capture the cultural landscape in an experimental and abstract way.
Time Mirror is the latest commission to open for Lakes Ignite.
It is one of six, contemporary pieces of art located across the Lake District in response to the Lake District becoming a World Heritage site.
The New York Times featured Di Mainstone as one of the "new generation visionaries" of the international digital arts scene.
Mainstone is artist in residence at Queen Mary University London where she collaborates with researchers from the Centre for Digital Music and Media Arts & Technology group, to develop new musical instruments that are inspired by the body, transforming physical movement into sound via digital technology.
She invented the term "Movician" to describe the player of these instruments – a hybrid artist who explores and composes sound through movement.
Time Mirror is 'Blackwell Blue' inspired by the colour blue of the peacock frieze and tiles in the Arts and Crafts House as well as the artist Yves Klein.
The house and installation overlook Lake Windermere and Coniston Fells.
Di Mainstone said: "Participants will be at the centre of this abstract transient landscape, and will be able to create their own unique experience, which can be captured using their own mobile phone or camera.
"When reading and thinking about the 500 million years of geological activity that made the landscape of the Lake District – I kept thinking about time. I have called the piece Time Mirror because I would like it to act as a sort of visual time-machine, shifting and reconfiguring this ancient landscape that took so long to come into being – in the blink of an eye.
Di continued: "I want visitors to use the Time Mirror to capture their moment in time in a dream like way, through abstracted elements of colour, texture, landscape and portrait."
Mainstone's works combine sculpture, dance, architecture and technology to create installations that relate to the human body and invite people to be curious, be playful and get involved.
Lakes Ignite 2018 presents six specially commissioned contemporary artworks to celebrate the Lake District's designation as a World Heritage site. From January to July 2018, six artists are bringing their creative vision to the Lakes with a unique collection of artworks that are free to visit and explore. As part of the festival, you can see:
Slung
10 January – July. The Mountain Hall, Rheged
Artic Char
From 18 January. Ambleside Salutation Hotel
Ordnance Pavilion
27 January – July. Wainwright's Inn, Langdale Estate
Mountains We Made
From January. Grizedale Forest Play Area
The Buried Moon
26 May – July. Unversity of Cumbria, Ambleside Campus
Plus Di Mainstone's Time Mirror at Blackwell.
Further information
Opening Times from 1 November 2017 – 28 February 2018 – House: 10.30am – 4pm; Tea Room: 10am – 4pm. From 1 March – 31 October 2018 – House: 10.30am – 5pm; Tea Room: 10am – 5pm
Adult £8.80 (without donation £8.00); Friends, Patrons & Benefactors FREE; Free admission for young people up to the age of 16 and full-time students over; National Art Pass 50% discount
Location Blackwell, The Arts & Crafts House, Bowness-on-Windermere, Cumbria LA23 3J
Getting there by car From the south: Exit the M6 at junction 36 and follow signs for the South Lakes and Windermere. At the roundabout take the first left following signs for Crook and Bowness-on-Windermere on the B5284. After 6 miles arrive at a T-junction, turn left on to the A5074 (Lyth Valley Road). Turn right where the road forks onto the B5360.  Follow the drive to Blackwell's car park. From the north: Exit the M6 at junction 40 and follow signs for Keswick (A66) and Windermere (A591) via Grasmere and Ambleside. Once in Windermere follow signs for Bowness-on-Windermere. Once in Bowness-on-Windermere follow the road to Blackwell which is situated just off the A5074 (Lyth Valley Road) and turn right where the road forks onto the B5360. Follow the drive to Blackwell's car park. By train: Oxenholme is the nearest main-line railway station, a connecting train will bring you into Windermere (three miles from Blackwell). Buses run to Bowness-on-Windermere, 1½ miles north of Blackwell. Alternatively taxis are available from Windermere Station to Blackwell
For more information please call 015394 46139