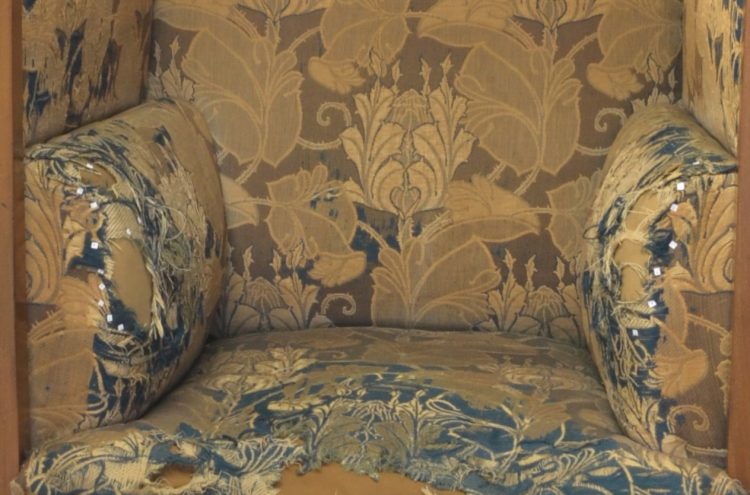 Liberating History
23 March – 9 June 2019
The magnificent Liberty chair, manufactured around 1900, is a significant new Arts & Crafts acquisition generously donated to Blackwell from a private collection.
Remarkably for a chair of this age, it still retains its original upholstery, designed for Liberty & Co by The Silver Studio.
A specialist textile and upholstery conservator, Kate Gill, has been carefully conserving this delicate fabric and its underlying structure to ensure that the chair can be enjoyed by visitors to Blackwell for generations to come.
This display presents the newly conserved chair for the first time and shows some of the painstaking processes behind its conservation.
For three days in April Kate Gill will be working on the chair at Blackwell and will be giving visitors the chance to talk to her about the fascinating challenges involved.
On display: 23 March – 8 April, 12 April – 9 June
Conservation in Action:  9 – 11 April . Please note that during this period the chair can only be viewed as part of an illustrated talk by conservator Kate Gill.
Caption: Part of the Liberty Chair. Photo credit to Kate Gill
Further information
Opening Times from 1 November 2017 – 28 February 2018 – House: 10.30am – 4pm; Tea Room: 10am – 4pm. From 1 March – 31 October 2018 – House: 10.30am – 5pm; Tea Room: 10am – 5pm
Adult £8.80 (without donation £8.00); Friends, Patrons & Benefactors FREE; Free admission for young people up to the age of 16 and full-time students over; National Art Pass 50% discount
Location Blackwell, The Arts & Crafts House, Bowness-on-Windermere, Cumbria LA23 3J
Getting there by car From the south: Exit the M6 at junction 36 and follow signs for the South Lakes and Windermere. At the roundabout take the first left following signs for Crook and Bowness-on-Windermere on the B5284. After 6 miles arrive at a T-junction, turn left on to the A5074 (Lyth Valley Road). Turn right where the road forks onto the B5360.  Follow the drive to Blackwell's car park. From the north: Exit the M6 at junction 40 and follow signs for Keswick (A66) and Windermere (A591) via Grasmere and Ambleside. Once in Windermere follow signs for Bowness-on-Windermere. Once in Bowness-on-Windermere follow the road to Blackwell which is situated just off the A5074 (Lyth Valley Road) and turn right where the road forks onto the B5360. Follow the drive to Blackwell's car park. By train: Oxenholme is the nearest main-line railway station, a connecting train will bring you into Windermere (three miles from Blackwell). Buses run to Bowness-on-Windermere, 1½ miles north of Blackwell. Alternatively taxis are available from Windermere Station to Blackwell
For more information please call 015394 46139