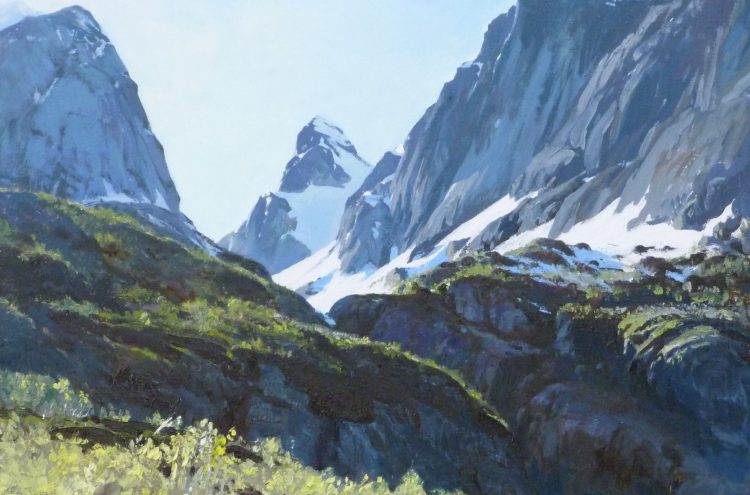 Eyes To The Hills Once More
1 July – 28 July 2018
Eyes To The Hills Once More is an exhibition of recent oils and watercolours by Vivienne Pooley.
Vivienne feels very fortunate to have grown up in the lovely Lake District.  She developed a deep love of mountain landscape alongside her love of painting, which has continued all her life.
This exhibition of paintings is to celebrate visits to the mountains of Switzerland, France, Scotland, Norway and one trek in Nepal,( up to Everest  Base Camp.)  All these mountain venues have provided a wonderful inspiration enabling Vivienne to follow up with paintings and subsequent exhibitions.  Vivienne will be holding 'Meet the Artist' Days from 1pm – 4pm on 10th, 24th and 29th July and 21st August (included in house or gardens admission)
In 2005 and 2006 Vivienne had solo exhibitions of Alpine paintings at Rheged near Penrith, which was followed, in 2007, by a third Alpine exhibition here in Brantwood.  In 2011 she returned to Brantwood to present her first "Eyes to the Hills" exhibition of Lakeland paintings.
Vivienne is a member of The Lake Artists Society, (established in 1904 by artist W.G.Collingwood who had been secretary to Ruskin).
Further information:
Open daily 10.30 am to 5.00 pm
Admission is included in the house & garden ticket; House & Garden: Adult: £7.50; Child: Free (aged 5 – 16); Student: £6.00; Infant/Junior School Groups: £1.20 ; Secondary School Groups: £5.25 (Free for adult helpers and teachers); Garden only tickets cost: Adult: £5.20; Child: Free; Student: £4.30
Location Brantwood, Coniston,  Cumbria  LA21 8AD
For more information please call  015394 41396; email: enquiries@brantwood.org.uk