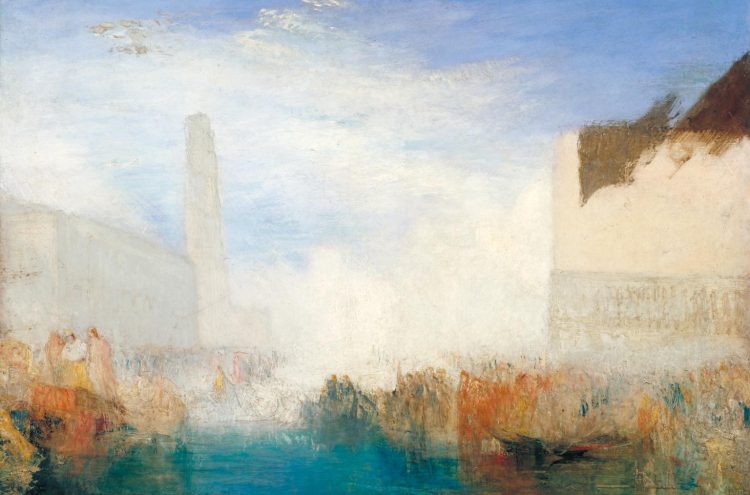 Incandescence: Turner's Venice
11 April – 4 August 2019
Special offer for Arts Society Members: In the bicentenary year of his birth, Arts Society Members can enjoy £1 off standard admission price (usually £8.70 for adults) when they present their membership card at the entrance. Valid until 31 December, the offer also includes entry to Incandescence: Turner in Venice(on until 4 August), which showcases a range of the artist's oil and watercolour paintings.
This exhibition marks the first ever public exhibition at Brantwood devoted to Turner. It showcases Turner's magnificent Venice: the Piazetta with the Ceremony of the Doge Marrying the Sea, together with a suite of watercolours from Turner's visit in 1840 which chart the passage of light across the hours of a single day.
In Venice Turner expressed the many elements of his artistic inspiration in the all-consuming energy of light. History, society, architecture, boats, sea and sky –all melt together in a timeless luminescence. Turner's Venice became Ruskin's Venice and Turner became one of the great shaping forces of Ruskin's life.
Further information:
Open daily 10.30 am to 5.00 pm (closed Mondays and Tuesdays during mid November to mid March, as well as Christmas & Boxing day
Admission is included in the house & garden ticket- £8.70 for adults, £7.00 for students and free for children (16 and under); Admission to the gardens only is £6.20 for adults £5.00 for students and free for children (16 and under).
Location Brantwood, Coniston,  Cumbria  LA21 8AD
For more information please call  015394 41396; email: enquiries@brantwood.org.uk