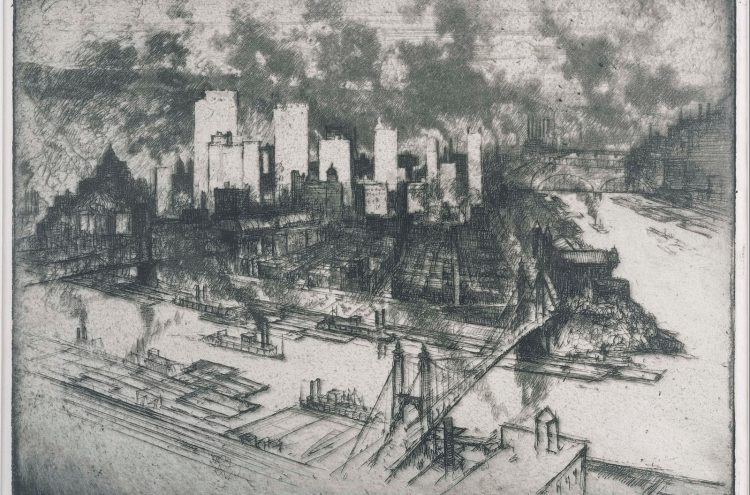 Whistler and Pennell: Etching the city
Whistler and Pennell: Etching the City captures the changing landscape of New York and London in the final years of the industrial revolution. Featuring more than 30 prints from two of the most influential and innovative etchers – James McNeill Whistler (1834-1903) and Joseph Pennell (1857-1926), the exhibition highlights an important period in the history of etching known as the 'Etching Revival'. It explores how both artists championed a declining art medium, and their motivation to create a definitive technique and style.
The artists shared an interest in the role of architecture, engineering, industry and production, but differed in their approach. Whistler's imagery captured the individual characteristics of the city and its workers, while Pennell's provides an impersonal and more distant perspective.
The exhibition also explores the lives of both American artists and their motivations for immigrating to Britain in the second half of the 19th century.
Caption: New York by Joseph Pennell. (This is a faithful photographic reproduction of a two-dimensional, public domain work of art. The work of art itself is in the public domain.)
Further information:
Sudley House, Mossley Hill Road,  Mossley Hill, Liverpool  L18 8BX
Access by car: The drive to Sudley House from Liverpool city centre takes approximately 20 mins. Follow 'Wapping' (A5036) – the road that runs alongside the river – out of the city
By train: Mossley Hill station – get here from Liverpool city centre by boarding a train at Lime Street Station.  Aigburth station – Northern line services (Southport – Hunts Cross)
By bus: 61 bus to Elmswood Road;  82 bus to Aigburth Road;  80 or 80A bus to Rose Lane
Opening hours 10 am -5pm daily
This is a free exhibition
Further information 0151 478 4016