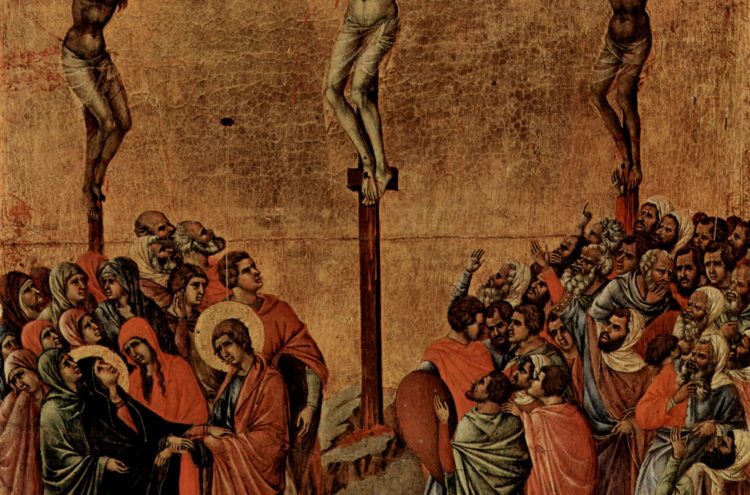 Louise Giovanelli
6 June 2019 – 19 April 2020
New paintings by Giovanelli are shown alongside rarely-seen early Renaissance panel paintings from the collection of Manchester Art Gallery, as well as a selection of contemporary works by Victor Man and Mark Manders from the David Roberts Art Foundation and Tate.
Using Manchester Art Gallery's The Crucifixion by the school of Buoninsegna di Duccio from the 14th century as her starting point, Manchester based painter Giovanelli has undertaken a major Arts Council England funded research project to visit early panel paintings and frescoes in Europe and the US. Artworks from this period by early Renaissance masters Duccio, Giotto and Piero della Francesca, as well as contemporary artists Mark Manders and Victor Man, have influenced her new collection of paintings and a selection of these artists' works will be in dialogue with her canvases.
Giovanelli employs a layering technique to build composite works that simultaneously presents multiple modes of representation and explores painterly concepts of flatness, translucence, abstraction and realism. Paying great attention to surface, Giovanelli's use of colour ranges from muted grainy pinks and powder blues to luminous deep blue-blacks that saturate the surface, she reveals the painting's own history by scratching through with fine lines to reveal layers of multi-coloured underpainting.
Caption: The Crucifixion by the school of Buoninsegna di Duccio (from Wikimedia Commons)
Further information
Opening times Tuesday to Sunday 10 am to 5.00 pm
Location Manchester Art Gallery, Mosley Street, Manchester M2 3JL
How to get there: By Metrolink – St Peter's Square or Market Street stations are the nearest Metrolink stations-both are on the Altrincham and Eccles lines; By Bus – Nearest bus stops are in Piccadilly Gardens or on Princess Street; By Train – to Manchester Piccadilly, Manchester Oxford Road or Manchester Victoria stations – take the Metrolink from Victoria or Piccadilly (Altrincham or Eccles direction) to Market Street or St Peter's Square; By Car – parking is available at the NCP car parks on Chepstow Street, Faulkner Street or Sackville Street – all are within five minutes of the gallery
This is a free exhibition
Further information 0161 235 8888