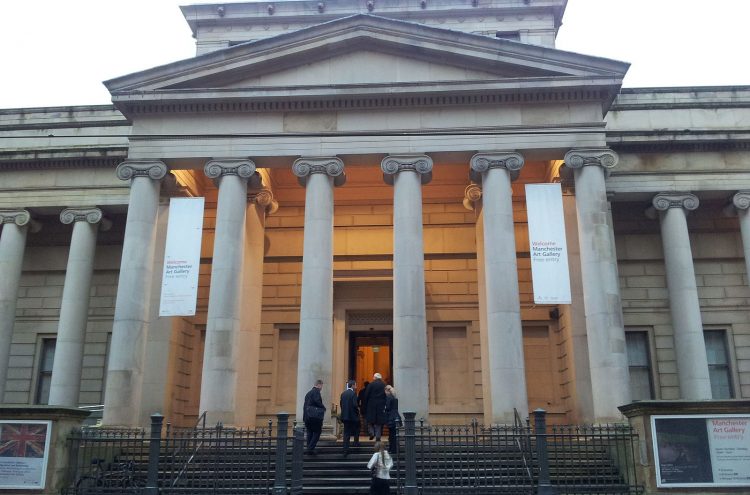 Uncertain Futures and Cleaning Conditions
24 June 2021 –  1 May 2022
This exhibition brings together two of Suzanne Lacy's Manchester projects, Cleaning Conditions and her new work Uncertain Futures.
Based in Los Angeles, Lacy is a pioneer of performance, socially engaged art and public practice, collaborating with wide-ranging communities across the globe to highlight issues of social justice. Cleaning Conditions and Uncertain Futures are made with Mancunians and respond to urgent social questions about labour and the impact of gender, class and migration status. This exhibition transforms the Gallery into a convening space for people to discuss the issues and act together to create real social change.
Uncertain Futures is a new collaborative artwork highlighting intersectional issues around work for women over 50 focusing on gender, age, race, disability and class. Developed by Lacy with an advisory group formed of women over 50 from Manchester's diverse communities, Manchester Art Gallery and Manchester City Council's Work and Skills team, Uncertain Futures aims to co-research conditions around access to work, within work and leaving work for women over 50. It is produced in partnership with the University of Manchester: School of Social Sciences, Department of Law and Manchester Metropolitan University: Department of Social Care and Social Work and is a MICRA seedcorn programme.
Uncertain Futures opened on 24 June 2021 with an installation in the Gallery hosting live interviews with 100 women from all walks of life, alongside workshops, talks, and media presentations that explore survival and equity. Often overlooked by society and the media, the voices of women over 50 are here foregrounded and amplified.
Lacy will premiere a new film of her 2013 project Cleaning Conditions. This installation places Ford Madox Brown painting's Work 1852-65 alongside a film by Victoria Dahl and Leanne Judge which documents a two-week performance in July 2013 at Manchester Art Gallery for do it, an exhibition curated by Hans Ulrich Obrist for Manchester International Festival. A team of volunteer 'sweepers' from labour, living wage and immigration organisations swept the Gallery floors every day, pausing at the end of the cleaning for a conversation on current conditions throughout England. An homage to her mentor, American performance artist Allan Kaprow, Lacy created a political conversation appropriate to the city at that time in response to Kaprow's 1995 text Chores:
Sweeping the dust from the floor of a room,
Spreading the dust in another room
So it won't be noticed
Continuing daily.
Since the 1970s, Lacy has used community organising strategies and media interventions to galvanise discussions about pressing social concerns including gender equity, violence against women, racism, immigration, and labour rights. These projects often culminate in large-scale, highly choreographed performances that bring together diverse groups of participants in public conversations. Lacy is a professor at the University of Southern California in the Roski School of Art and Design.
Further information
Opening times: open 10am–5pm, Wednesday–Sunday
Location Manchester Art Gallery, Mosley Street, Manchester M2 3JL
How to get there: By Metrolink – St Peter's Square or Market Street stations are the nearest Metrolink stations-both are on the Altrincham and Eccles lines; By Bus – Nearest bus stops are in Piccadilly Gardens or on Princess Street; By Train – to Manchester Piccadilly, Manchester Oxford Road or Manchester Victoria stations – take the Metrolink from Victoria or Piccadilly (Altrincham or Eccles direction) to Market Street or St Peter's Square; By Car – parking is available at the NCP car parks on Chepstow Street, Faulkner Street or Sackville Street – all are within five minutes of the gallery
Further information 0161 235 8888