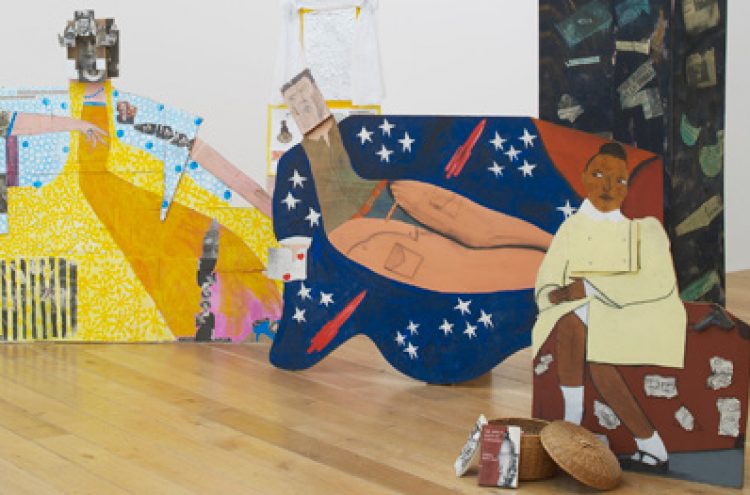 LUBAINA HIMID: HARD TIMES
2 March  – 3 June 2018
The Harris is showing an exhibition of the work of The 2017 Turner Prize winner and Preston-based artist Professor Lubaina Himid MBE. The Harris has had a long relationship with Lubaina, showing her work on a number of occasions including most recently Moments that Matter (2012).
Lubaina's A Fashionable Marriage, reworking Hogarth's painting, is at the heart of this exhibition, as in her Turner Prize show in Hull.  In Preston visitors can walk through this theatrical setting, and its passionate challenge to the hypocrisy of the art world and Eighties politics – ideas that are finding a renewed relevance thirty years on.
Bone in the China: Success to the Africa Trade asks 'where are the memories…of black people's lives?' Inside the Invisible, seen for the first time in the UK, gives voices to the patients excluded from society in a Norwegian leprosy hospital. Each of the 30 small paintings is a different pattern in many colours, in which you may – or may not – see the memory enscapsulated in its handwritten label.
The Feast Wagons are painted with frightening beasts, reflecting on migration and its impact on individuals and communities. You are invited to move the handcarts to create new relationships.
Rarely seen work, Meat Mountains and Drowned Orchard, Secret Boatyard: Tools, Box, Basket, Hairstyles complete the exhibition.
Three works by Lubaina in the Harris collection, including Hannibal's Sister, and work by women artists selected by her are also displayed elsewhere in the Harris during the show.
Lubaina is Professor of Contemporary Art at the University of Central Lancashire in Preston, where she curates the Making Histories Visible research project and Black Art Archive. Behind these projects and her own work is a focus on belonging – that everybody matters.
Through the course of her three-month show, Lubaina has invited selected artists, currently working in the city, to curate exhibition and events bringing in a number of international artists and creative contributors from across the world. For more information please visit Lubaina Himid events programme here.
Read an article from The Guardian about Lubaina here.
More links about Lubaina's work and her Turner Prize win are below:
The Guardian
The Independent
The Guardian interview from September 2017
Caption: Lubaina Himid, A Fashionable Marriage, 1986 [detail]. Multimedia installation, ca 4 x 7 metres. Courtesy of the artist and Hollybush Gardens, London.
Further information:
Opening hours Monday 11am-5pm; Tuesday – Saturday 10am-5pm; Sunday 11am-4pm
Location: Market Square, Preston, Lancashire PR1 2PP
The museum is a short walk from Preston bus and train stations
Contact Tel 01772 258248. Email: harris.museum@preston.gov.uk
Admission is free
http://www.harrismuseum.org.uk/