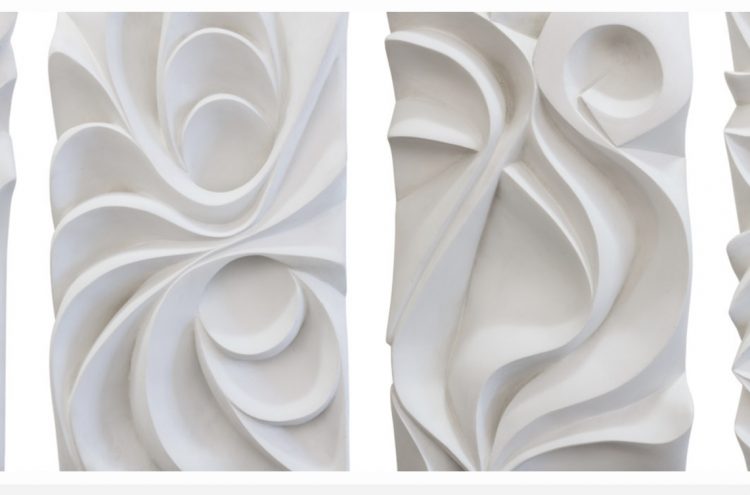 Halima Cassell: Reflections
8 July 2023 – 1 January 2024
Halima Cassell returns to Blackwell after 10 years with a mesmerising exhibition showcasing a large selection ceramic sculptures, drawings, collages and wallpapers.
Since her exhibition Light Structures at Blackwell in 2012, Halima Cassell has become an internationally renowned artist. Halima Cassell: Reflections is an accumulation of artworks made over the past three decades and intimately expresses the story of the artist's life and artistic journey. Presenting an exquisite selection of artwork in the unique architectural setting of Blackwell- the Arts & Crafts house, the exhibition is an enchanting experience.
Cassell was born in Pakistan and brought up in Lancashire. Her work is held in various national and international collections, including at the Victoria and Albert Museum, The Hepworth Wakefield and Birmingham Art Gallery.
Cassell's exploration of her dual international heritage is expressed within her work through the fusion of material and design. The distinctive geometric patterns which form her sculptures are also influenced by natural forms and textures she has discovered whilst travelling.
Cassell's sculptures are made from robust materials such as unglazed ceramic, bronze and cast iron.  The sculptures will be presented alongside a collection of the artist's drawings and wallpapers in the exhibition gallery in the house.
Virtues of Unity
From 30 September an impressive installation of sculptures crafted in clays sourced across the globe will be added to the exhibition. The Virtues of Unityinstallation is part of an ambitious ongoing project with Cassell aiming to create a sculpture made from clays representing every country in the world. The sculptures of varying textures and colours, reflect the diversity of people, cultures and environments worldwide. The intention of this installation is to celebrate that we are all connected as one species in spite of visual or cultural differences.
Click here to learn more about Halima Cassell and the Reflections exhibition.
Further information
Opening times: April – October 10.00 am – 5.00 pm daily; November – March 10.00 am – 4.00 pm
Adults: £9.00 / £9.90 (with Gift Aid); Friends, Patrons & Benefactors FREE; Family (one adult & up to three children): £15.50 / £17.05 (with Gift Aid); Family (two adults & up to three children): £24.00 / £26.95 (with Gift Aid); Students: 7.00 / £7.70 (with Gift Aid); Children <15 £4.50 / £4.95 (with Gift Aid); Children < 4 Free; National Art Pass 50% discount
Location Blackwell, The Arts & Crafts House, Bowness-on-Windermere, Cumbria LA23 3J
Getting there by car From the south: Exit the M6 at junction 36 and follow signs for the South Lakes and Windermere. At the roundabout take the first left following signs for Crook and Bowness-on-Windermere on the B5284. After 6 miles arrive at a T-junction, turn left on to the A5074 (Lyth Valley Road). Turn right where the road forks onto the B5360.  Follow the drive to Blackwell's car park. From the north: Exit the M6 at junction 40 and follow signs for Keswick (A66) and Windermere (A591) via Grasmere and Ambleside. Once in Windermere follow signs for Bowness-on-Windermere. Once in Bowness-on-Windermere follow the road to Blackwell which is situated just off the A5074 (Lyth Valley Road) and turn right where the road forks onto the B5360. Follow the drive to Blackwell's car park. By train: Oxenholme is the nearest main-line railway station, a connecting train will bring you into Windermere (three miles from Blackwell). Buses run to Bowness-on-Windermere, 1½ miles north of Blackwell. Alternatively taxis are available from Windermere Station to Blackwell
For more information please call 015394 46139