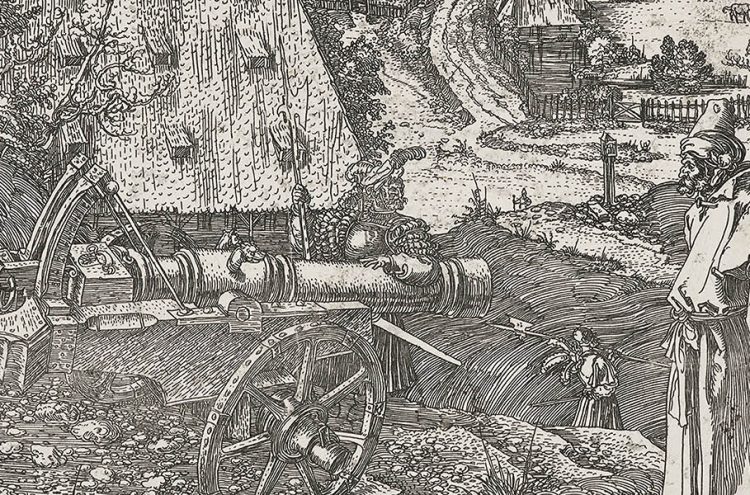 Albrecht Dürer's Material World
30 June 2023 – 10 March 2024
Albrecht Dürer's material world is the first major exhibition of the Whitworth's outstanding Dürer collection in over half a century.
The exhibition offers a new perspective on Dürer as an intense observer of the worlds of manufacture, design, and trade that fill his graphic art. Woodcuts, etchings, and engravings, from the Whitworth's collection, are juxtaposed with a range of objects from Dürer's time, including armour and tableware, books and scientific instruments, textiles, and exotic artefacts. The exhibition highlights the ingenuity and skill with which Dürer, a leading figure of Europe's print revolution, represented his material world.
You are invited to enter three themed spaces of creation and creativity in Renaissance Nuremberg: the home, the workshop, and the scholar's study. Artworks and objects in these three rooms expose understudied aspects of Dürer's art and practice, including his attentive study of objects of daily domestic use, his involvement in economies of local manufacture and exchange, and the microarchitectures of local craft. And, finally, we focus on the attention Dürer paid to the furnishings and artefacts tied to cultures of natural and philosophical inquiry and learning.
This exhibition's novel approach reconsiders how a changing Renaissance material world, characterised by increasing globalisation, sparked artistic creativity and major innovations in the production of art and craft in Dürer's native Nuremberg and beyond. The show also takes a fresh look at the history of collecting Dürer's art in the northwest of England, and the role those local collectors – many themselves involved in trade, industry, and design – played in amassing one of the country's most significant holdings of this Renaissance artist's graphic work.
Click here to find out more about the Albrecht Dürers material world, research project.
Caption:  Albrecht Dürer, Landscape with a Cannon, 1518. Courtesy, The Whitworth, The University of Manchester
Further information:
Opening times: Wednesday to Sunday, 10.00 am-5.00 pm;  open until 9.00 pm on Thursdays
Location: The University of Manchester, Oxford Road, Manchester, M15 6ER
Getting there: By foot: 20-30 minures from Manchester city centre; By Bike: Sheffield stands and lockers (£1 coin, refundable) both available at the gallery; By Bus: 15, 41, 42, 43, 140 – 143, 147 – ask for bus stop nearest MRI, Oxford Road; By Metrolink: St Peter's Square (plus 10 minutes on the bus or 20 minutes on foot); Train: Oxford Road (plus 10 minutes on the bus or 20 minutes on foot); By Car: On-street parking (maximum stay, 2 hours) on Denmark Road. Nearest car park Cecil Street
Admission is free
http://www.whitworth.manchester.ac.uk/