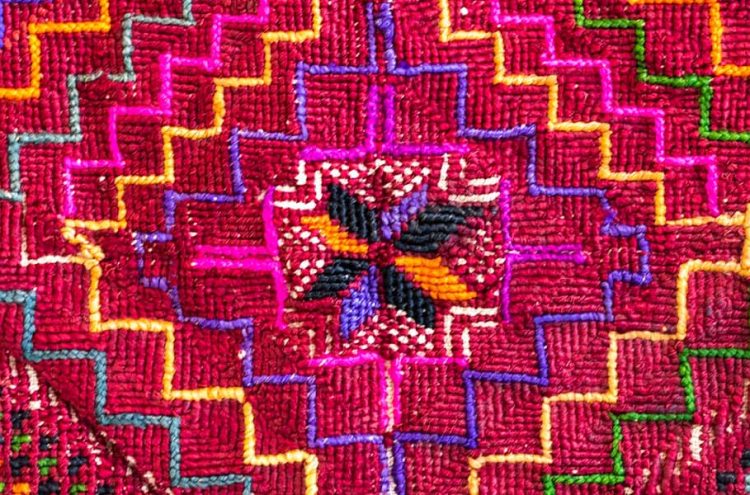 Material Power: Palestinian Embroidery
24 November 2023 – 7 April 2024
Material Power: Palestinian Embroidery, explores the historical life and contemporary significance of Palestinian embroidered dress. Although an ancient craft, embroidery remains the paradigmatic cultural material of Palestine today and its most prominent living tradition.
The significance of embroidery has changed radically over the last 150 years. Material Power maps this complex evolution: from embroidery as a rich village tradition, transformed by the advent of modernity, to its politicisation after 1948, and critical re-interpretation by contemporary artists. Woven into the social, economic and political fabrics of its time, embroidery is a practice both shaped by and reflective of the changing conditions in Palestine over the course of the twentieth century.
This will be the first time an exhibition of Palestinian embroidered dress has been mounted in the UK in more than 30 years. Curated by Rachel Dedman in collaboration with the Whitworth and Kettle's Yard in Cambridge, Material Power is based on two exhibitions Dedman curated for the Palestinian Museum, West Bank, in 2016 and 2018, while she was based between Beirut and Ramallah. These projects and their publications involved years of research and fieldwork in Palestine, Lebanon, and Jordan, and collaboration with a wealth of private collectors, specialists, and embroiderers.
Further information:
Opening times: Wednesday to Sunday, 10.00 am-5.00 pm;  open until 9.00 pm on Thursdays
Location: The University of Manchester, Oxford Road, Manchester, M15 6ER
Getting there: By foot: 20-30 minures from Manchester city centre; By Bike: Sheffield stands and lockers (£1 coin, refundable) both available at the gallery; By Bus: 15, 41, 42, 43, 140 – 143, 147 – ask for bus stop nearest MRI, Oxford Road; By Metrolink: St Peter's Square (plus 10 minutes on the bus or 20 minutes on foot); Train: Oxford Road (plus 10 minutes on the bus or 20 minutes on foot); By Car: On-street parking (maximum stay, 2 hours) on Denmark Road. Nearest car park Cecil Street
Admission is free
http://www.whitworth.manchester.ac.uk/