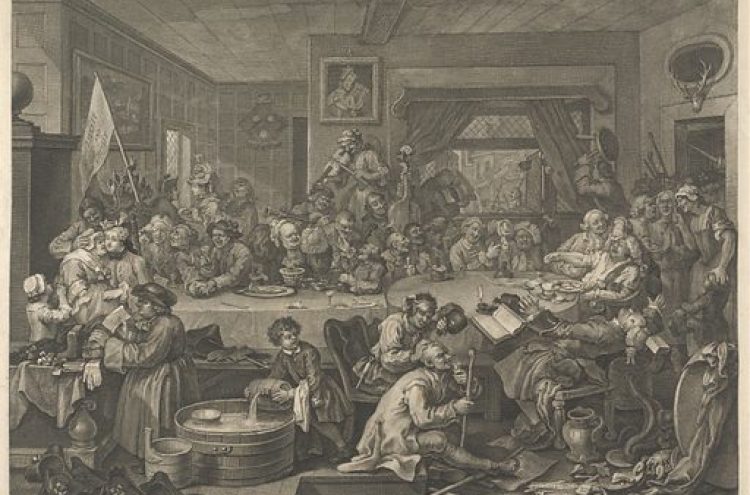 Political Satire: Hogarth at the Hustings: The Election Entertainment Series & the Birth of Political Satire
Wednesday 1 May 2024 at 2.00 pm at the Lowther Pavilion.  Guests may attend the lecture – £10 pp (pay on door)
Lecturer: Rupert Dickens
This will be Rupert's first visit to The Arts Society Fylde. Rupert Dickens is an art historian based in south London, with a special interest in Dutch and Flemish 16th and 17th century painting. He works at the Wallace Collection as a guide, conducting public and private tours and lecturing on aspects of the collection. Rupert is also a tour director for a Cambridge-based company accompanying groups on art-themed tours to the Netherlands, Belgium, France, Austria and Italy. He has lectured to large audiences on subjects as diverse as the game of chess in art and Madame de Pompadour's artistic patronage in 18th century France. He studied art history at Birkbeck College before undertaking a Masters in Dutch Golden Age Studies at University College London. Before that Rupert had a 26-year career as a BBC journalist ending as an editor in radio news.
The Lecture
The long British tradition of political satire is coming to the fore again as a General Election approaches – May 2024 at the latest. At the root of that tradition is William Hogarth's Election Entertainment series of prints from the 1750s. His ruthless exposure of electoral corruption and hypocrisy sets the stage for later generations of satirists including James Gillray, Private Eye and today's digital artist Cold War Steve. We will look closely at the Election series, explain Hogarth's many jokes and references, and reveal some themes with surprising topical relevance, from voter identification to the politics of immigration.
Caption: An Election Entertainment, Plate I The Humours of an Election. Date: 1755–1758.  Engraving, William Hogarth. Yale Center for British Art. (Public Domain Dedication (CC0 1.0).