The structure of The Arts Society Fylde comprises a  Committee and a number of Teams. The Committee is responsible for governance and strategic planning.
The Committee members are Chair, Vice Chair, Secretary, Treasurer, Membership Secretary, Programme Secretary, Events Co-ordinator and Communications Officer. The positions of Chair and Vice Chair are currently vacant and we are actively looking to fill these two important positions. Please contact the Society if you are interested or require any further information theartssocietyfylde@gmail.com
Meet the Team:
•  Chair: Vacant
•  Vice Chair: Vacant
• Hilary Creswell: Hon. Secretary
I am a 'Southerner' who has lived in St Annes since 1990, and now I wouldn't want to live anywhere else. I have been a member of DFAS (now TASF) from the beginning; I knew of the society in other regions and was pleased to see an advertisement for the start up of a Fylde Branch in St Anne's Library, and applied to join. Since becoming a member I have been involved in two Heritage projects: I helped with stitching the kneeler for Stonyhurst College, and with the recording of the contents and decoration of the White Church on Clifton Drive. Both were enjoyable experiences and were the start of some good friendships. I joined the Executive Committee of The Arts Society Fylde (TASF) in summer 2022, in response to a plea from the Chairman for a Minutes Secretary and I am finding it interesting to learn more about how our society is run and decisions made.
• Christina McHugh: Hon. Treasurer

My first interest in the arts was literature and theatre. After retiring from my job as a high school bursar I did an MA in Creative Writing. Growing up in Liverpool my love of art came through many visits to the Walker Art Gallery. A member of my book club introduced me to NADFAS, now The Arts Society, and I thoroughly enjoy the diversity of lectures, Study Days and visits; furthering my knowledge and pursuits in the arts.
 • Pam Foster: Communications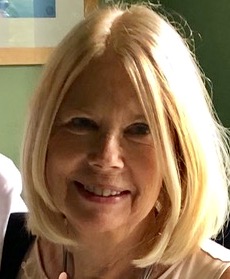 I worked in the business information sector as an editor/consultant/researcher for most of my working life. I have a general interest in the arts, especially modern art, and am particularly interested in design.  I joined The Arts Society Fylde to improve my knowledge of art and to meet like-minded people. I enjoy maintaining our website, keeping our members up to date with our events, etc and trying to keep up with new technology!
• Elaine Wolstencroft: Events Co-ordinator

• Lesley Peabody Brewer: Membership Secretary
As some are aware, I along with others have organised various day trips for the Society. Hopefully in the not too distant future there will be more trips to be organised. In the meantime and being aware that organisations such as Fylde Arts cannot run themselves, I thought it was my turn, now I am retired, to step up to the plate by offering my services as Membership Secretary.
• Anne Gaskell: Programme Secretary
Co-opted members: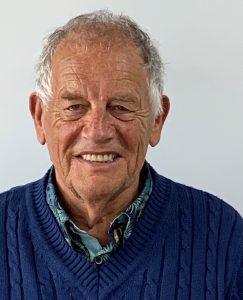 Team Leaders
• Rita Calvert: Volunteers Co-ordinator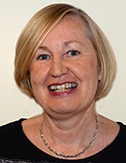 I was born in Northern Ireland and moved to the Fylde in 1977. I taught Science in a primary school until 2004.  My hobbies are reading, badminton and gardening. I have always been interested in the Arts and I joined The Arts Society Fylde in 2011. I enjoy the lectures and find the topics very interesting. I also enjoyed being involved with The Tagging the Treasures project.
• Pam Foster: Communications (details as above)
• Elaine Wolstencroft: Events Co-ordinator (details as above)
• Anne Gaskell: Programme Co-ordinator (details as above)
Our President
Hugh Ellwood: President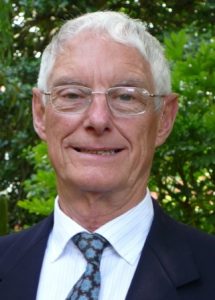 Hugh was appointed President in February 2015. He studied philosophy in Rome, followed by a degree in architecture at the University of Manchester. Previously an architect partner with Building Design Partnership, the largest multi-discipline design organisation in the UK, he was for some years an external examiner in architecture at the University of Manchester. For several years Hugh was a visiting lecturer in the history of art and architecture at the University of Central Lancashire. Hugh is a watercolourist who has also lectured extensively to various societies and organisations, including cruises, on art and architecture.  Some of his artwork can be viewed in our Members' Gallery.