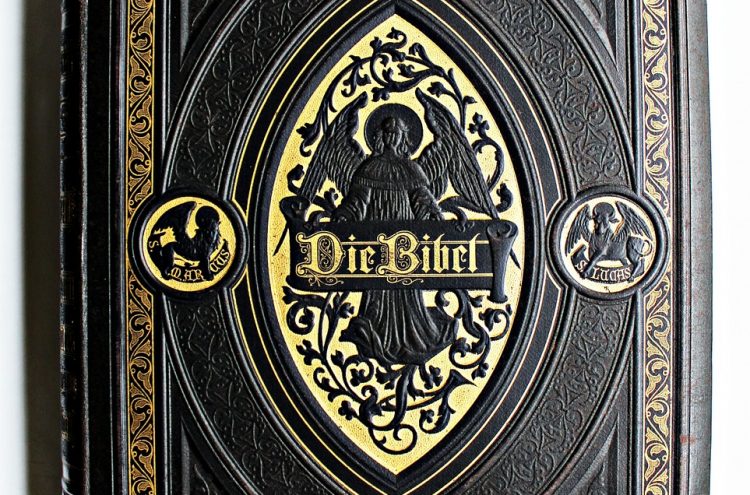 The Whole Art of the Book
Please note our AGM will be held at 1.00 pm, prior to the lecture
Wednesday 6 February 2019
Dominic Riley
A bookbinder, artist and teacher, Dominic Riley first learned bookbinding at 16 from Benedictine Monks at Douai Abbey in Berkshire and later at the London College of Printing. He has worked at the V&A, and for various binderies in London, New York and San Francisco, and spends part of the year teaching across the USA. He has his bindery in the Lake District, from where he travels across the UK teaching master classes and lecturing. He is Vice President of the Society of Bookbinders and was elected a Fellow of Designer Bookbinders in 2008. His binding work is mostly the restoration of antiquarian books and Design Bindings. He has won many prizes in the Designer Bookbinders competition, including both first prizes and the Mansfield Silver Medal in 2007. His bindings are in collections worldwide, including the British Library and the John Rylands Library in Manchester. In 2010 he bound a special copy of the winner of the Booker Prize which was presented to the author. In June 2013 he won first prize in the prestigious Sir Paul Getty International Bookbinding Competition. His winning binding was acquired by the Bodleian Library in Oxford.
Why was the best paper made from the worn out clothes of peasants? Why did leather have to be tanned outside the city walls? Why is gold leaf so thin that it is measured in atoms and cannot be touched with the hands? Why do printers have to do everything upside down and backwards? Why did gold finishers get paid more than other bookbinders despite not washing their hair? And why is the art of bookbinding itself, surely the most complex of all hand crafts, as beguiling and enchanting today as it was when it was invented on the banks of the Nile 2,000 years ago. This lecture is a 'Through the Round Window' for grown-ups, and tells the fascinating story of everything that makes a traditional hand bound book.
Further reading/information:
The lecture notes leaflet can be downloaded

here
Below are some photos of the AGM and lecture.