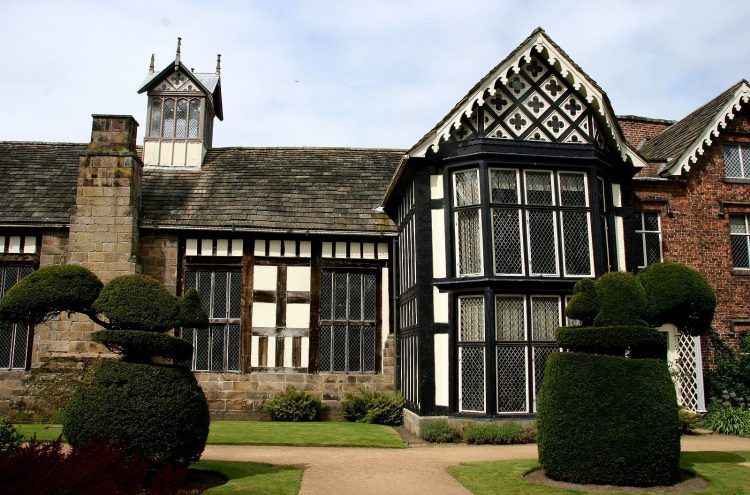 Day trip to the Atkinson Gallery, Southport and Rufford Old Hall
Photographs of this excursion are below
12 July 2017. Cost is £27 per person 
This trip will take in the Atkinson Gallery in Southport and Rufford Old Hall in Ormskirk.
There are three exhibitions at the time of our visit to the Atkinson:
Why Look a Animals – looks at our relationship with animals in the world of art. Artists from the
early Victorian period until the present day are featured, including contemporary artists, Dan Hays, John Isaacs and Andrea Roe
Golf and Glamour -fashion on the Fairway from 19th Century to Present. As the British Open will be at Royal Birkdale this year, the Atkinson is celebrating with an exhibition of golf fashion from the blazers, top hats, bonnets and corsets of the late 19th C, including items from the British Golf Museum in St. Andrews and artwork by Charles Lees and David Mach
John Armstrong: Dream and Reality –  John Armstrong ARA (1893-1973) studied briefly at St. John's Wood School of Art, but was essentially self taught and was established in avant-garde circles with Paul Nash and others. Although his paintings are influenced by Surrealism, Armstrong was never a surrealist, instead his personal style attacked conventional ideas and beliefs with irony and personal symbolism.
We will then visit Rufford Old Hall, arriving for our tour at approx. 1.35pm. The original handsome timber-framed manor house was built around 1530 in the low-lying moss lands of south-west Lancashire by Sir Robert Hesketh, whose family had been lords of the manor for at least seven generations. The surviving Great Hall, remarkably intact, a magnificent example of Tudor hammerbeam roof timbers enriched with carved angels and exquisite late Gothic decoration has no equal in Lancashire and its massive carved oak screen standing between two octagonal posts which support the roof is the only surviving example of its type.
The Great Hall was at the centre of a H-Shaped house with two wings. The timber-framed west wing containing the family apartments has gone and was replaced in 1662 by a brick building north of the east wing to accommodate the family and servants. The east wing was rebuilt in the 1720's using 16th century timbers from nearby Holmeswood Hall, giving the present house its Dining Room, Ante Room and first floor Drawing Room. Around 1580, the young William Shakespeare was sent by his Stratford schoolteacher to be an assistant teacher at Lea Hall, Preston and it's believed he joined a company of players at Rufford Old Hall in 1581.
Rufford Hall has many fine examples of carved oak furniture, silver plate and ceramics, paintings and some rare 18th century Dutch leatherwork on the dining room chairs, armour and stained glass. In the Dressing Room are a series of botanical water-colours by Ellen Stevens. The stables contain The Philip Ashcroft Collection: a museum of local life and work, first exhibited in 1939. Thomas Fermor-Hesketh, later 1st Lord Hesketh presented the house to the National Trust in 1936.
Tea and cake will be served in the tea room.
Caption: Rufford Old Hall: photograph by Mike Peel