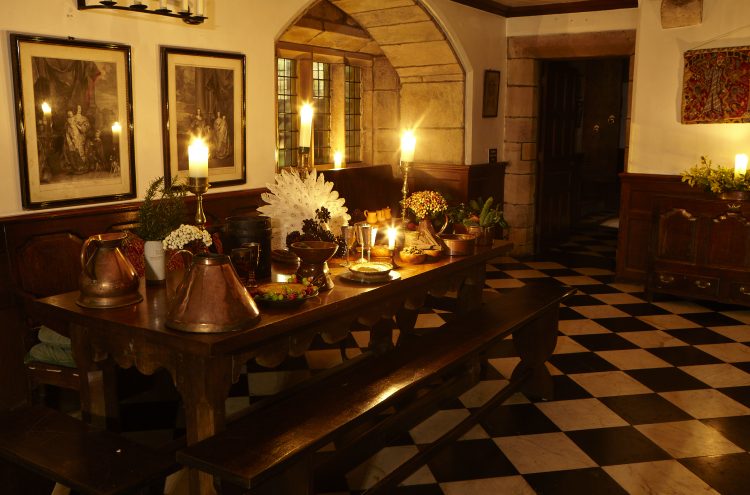 Christmas Outing to The Howarth Art Gallery & Hoghton Tower
Thursday 13 
December 2018
This year's Christmas outing is to the Howarth Art Gallery and Hoghton Tower. Tickets will be on sale at the October, November and December lectures. A booking form can also be downloaded and printed here.
The Haworth Gallery, located in Accrington, is the home of the largest collection of Tiffany glass from the studio of Louis Comfort Tiffany. The gallery is a Tudor styled house originally built in 1909 by Walter Brierley 'The Yorkshire Lutyens', for William Haworth, a manufacturer of textiles.
The Tiffany collection is the largest outside the United States and was the gift of Joseph Briggs, a design apprentice who emigrated from Accrington at the age of 17. Briggs worked for Tiffany for over 40 years.
On arrival refreshments will be served, followed by a brief introduction to the gallery and the Tiffany collection on display. At approximately 1.30 pm the group will depart for Houghton Tower, where we will enjoy a traditional Christmas Afternoon Tea prior to a twilight tour of the Tower.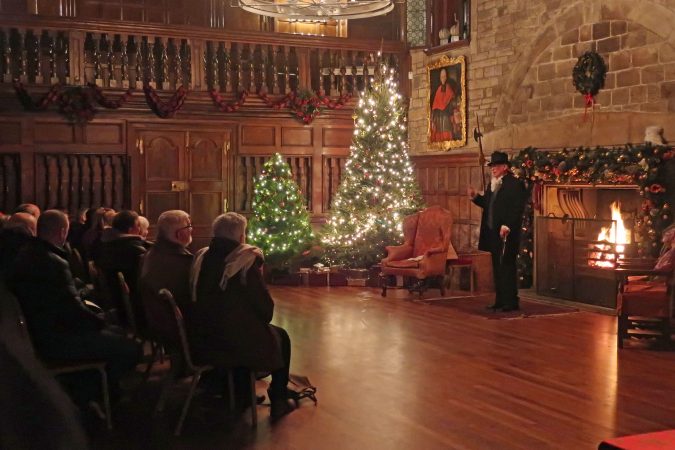 Hoghton Tower is a 16thcentury Elizabethan fortified manor house, the ancestral home of the de Hoghton family. The house has a Grade 1 listing as does the barn. The present house dates from 1560-65, in fact King James 1 stayed in the house in 1643 for some three days. The house was substantially damaged during the Civil War, becoming derelict until 1862-1901 when it was restored by Sir Henry and Sir Charles de Hoghton.
Much of the house and family history will be imparted to the group during the house tour which will commence at about 3.00 pm.
The Cost of the excursion is £38.00 per person. The price includes:
Return coach travel to and from the various pick up points
Refreshments at the Howarth Art Gallery, followed by a brief introduction about the gallery and the famous Tiffany collection housed therein
A twilight guided tour of Hoghton Tower, preceded by a Christmas Afternoon Tea
Prior to leaving the Tower, the group will enjoy a glass of Prosecco to toast in the festivities.
We will depart for home by approximately 5.00 pm.
Several collection and drop off locations are available:
10.00 am Ashton Gardens
10.10 am The Fairhaven Clifton Drive
10.20 am Assembly Rooms Lytham
10.40 am Fleetwood Rd Kirkham (near the cemetery)
A booking form can be downloaded here. Please print off and fill in the form and return with a cheque and a SAE to: Mrs Jean Holland, The Hollies, 151, Hardhorn Road, Poulton-Le-Fylde FY6 8ES.
Below are some photos of this event.