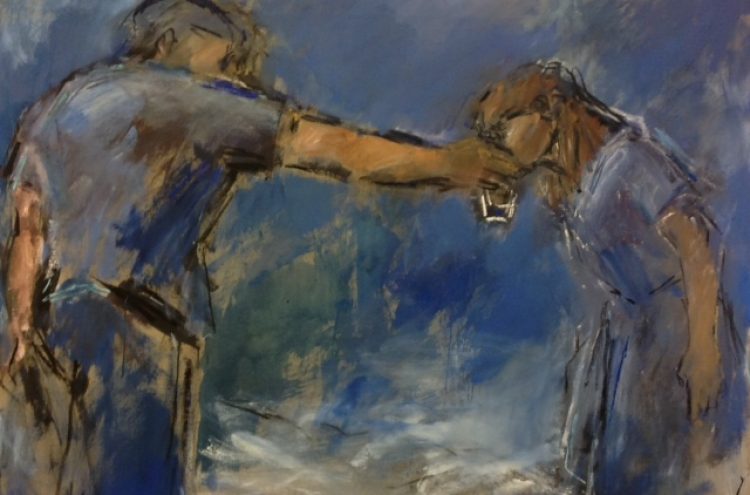 Visit to the studio of Ghislaine Howard & The Hat Works, Glossop
Wednesday, 11 September 2019
Ghislaine Howard
Ghislaine Howard, the creator of The Seven Acts of Mercy, spoke to The Arts Society Fylde in May 2018. Ghislaine is a painter of national reputation, named as a Woman of The Year 2008 for her contribution to art and society. She has published and exhibited widely, has had work in the Royal Collection and has had solo exhibitions at many prestigious venues. She is also an associate lecturer at Manchester Metropolitan University, and has lectured to a broad spectrum of people at her studio gallery or at more public venues such as cathedrals, art galleries and other institutions. Please see Ghislaine's website for more information.
Ghislaine has invited us to her studio in Glossop for a chance to see her studio and works, followed by a light lunch.
Hat Works
On leaving Glossop, we will move onto Wellington Mill, a Grade 2 listed building, that became a hat works in 1890 at a time when Stockport played a pivotal role in the textile industry. We will have a guided tour of the factory, followed by tea and biscuits before the journey home.
Cost is £38 per person, including coach travel, coffee and light lunch. The coach collection points will be:
8.45 am Ashton Gardens, St Annes
8.55 am The Fairhaven, Clifton Drive
9.05 am Assembly Rooms, Lytham
9.20 am Fleetwood Road, Kirkham (by the cemetery)
We expect to be back on the Fylde Coast at approximately 630 pm.
A booking form can be downloaded here. Please print it out, fill in the details and send it together with  with a SAE and your cheque (payable to The Arts Society Fylde), to: Lesley Peabody-Brewer, Brow Farm, Cartford Lane, Little Eccleston PR3 0YP.