Discovering MacDonald Gill: Architect, Artist and Mapmaker
Wednesday 4 July 2018
Caroline Walker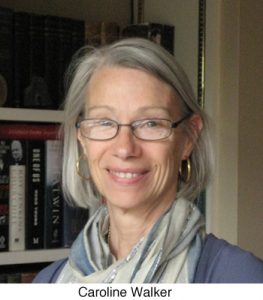 After embarking on family history research in 2006, Caroline Walker became fascinated in the life and work of her great-uncle MacDonald 'Max' Gill (1884-1947), an architect and graphic artist, best known for his decorative maps. Although well-known in his time, he was all but forgotten after his death unlike his brother Eric Gill, the controversial sculptor. Recently there has been a massive resurgence of interest in Max's work – much the result of exhibitions Caroline has co-curated, including Out of the Shadows: MacDonald Gill (2011) hosted by the University of Brighton and articles she has written for publications including Country Life, the Oxford Dictionary of National Biography, and the Journal for the International Map Collectors Society. Caroline has also given talks for the National Archives, the Art Workers' Guild, Christie's, Friends of Kettle's Yard and the National Trust. She is currently writing a biography and she also maintains the MacDonald Gill website.
MacDonald 'Max' Gill, younger brother of the sculptor and typographer Eric Gill, was an architect, graphic designer and letterer, best known for his pictorial maps, especially those for the London Underground. He also created painted maps for Arts & Crafts houses including Lindisfarne Castle, magnificent murals for Cunard liners, and eye-catching publicity posters for organisations such as the Empire Marketing Board. An enduring legacy is his alphabet for the Imperial War Graves Commission used on all British military headstones since the First World War. This illustrated talk by Max Gill's great-niece presents a colourful overview of this versatile artist's personal life and artistic achievements.
Caption: Part of the Wonderground Map, 1914
Suggested Further Information
Podcast
Listen to a podcast with slides of Caroline Walker's talk on The life and work of MacDonald Gill: Mapmaker, Letterer and Graphic Artist given at the National Archives at Kew on 27th June 2013. https://media.nationalarchives.gov.uk/index.php/the-life-and-work-of- macdonald-gill-mapmaker-letterer-and-graphic-artist/
Books
London Underground Maps – Art, Design and Cartography. Published in 2012 and written by Claire Dobbin, the curator of London Transport Museum's Mind the Map exhibition, this informative book has a chapter devoted to the maps of MacDonald Gill and it contains detailed illustrations of most of his Underground poster maps. £35
The notes for this lecture can be downloaded

here
Below are some photos of this lecture & our volunteers' afternoon tea, which followed the lecture.