The Age of Jazz! Art Deco Fashion and Style
Wednesday 8 January 2014 at 2.00 pm
Sally Hoban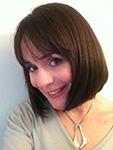 Sally Hoban has an Art History degree from the University of Birmingham and over twenty years' experience in the antiques trade. She has lectured extensively on art, design and antiques throughout the UK.  She is a freelance arts journalist for local, national and international media and has broadcast on the BBC; her publications include Miller's Collecting Modern Design (2001).
Art Deco swept across Europe and America in the 1920s, bringing with it a transformation in design. From brightly coloured, geometric patterns on fabrics, wallpapers and in book illustration to the soaring, elegant lines of New York skyscrapers, Art Deco helped to introduce Modernism to a mass audience. Fashion design too was affected by the new style, bringing with it beaded 'flapper' dresses, fabulous handbags and bias cut dresses.  Hollywood was quick to reflect the new style, perhaps best epitomised in the films of Fred Astaire and Ginger Rogers. This lecture gives an overview of Art Deco style and design and also looks at the movement's legacy today.
The lecture notes leaflet can be downloaded here.
Below are photos of this lecture