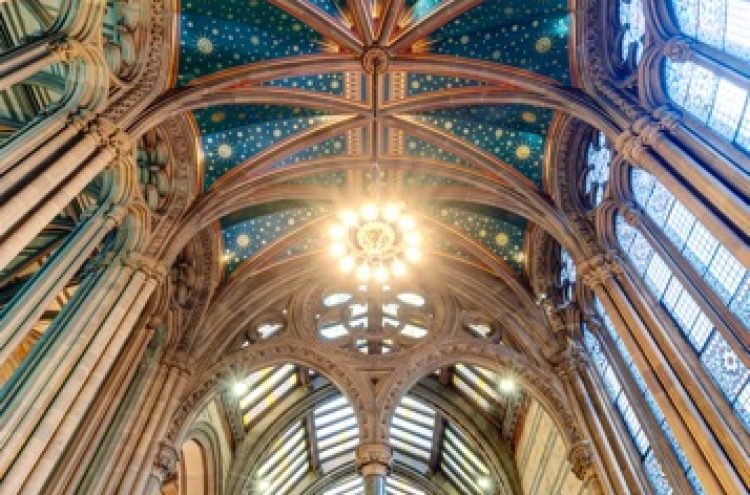 When Cotton was King: Civic Pride and Commercial Swagger
Thursday 14 March 2019
This Study Day, When Cotton was King: Civic Pride and Commercial Swagger, will be held at Fylde Rugby Club, Lytham St Annes on 14 March 2019. The day will comprise two lectures and a two course sit down lunch. Cost per person is £35.
Brian Healey will lecture on:
Lecture 1: Town Hall Triumphant: We will start by looking at the story behind the building of the magnificent Town Hall by Alfred Waterhouse, described by architectural historians as the last great gothic building of the 19th century. The lecture will examine a number of the shortlisted competing designs, the battle to build it, the decoration and sculpture of the finished building and the personalities behind it. It will also look at the fascinating series of paintings in the Great Hall by Ford Madox Brown that tell the history of Manchester from Roman times.
Lecture 2: Boom Bust and Baroque: The concluding part of Manchester's cotton story will deal with the years that followed the opening of the Town Hall, and the later Ship Canal, which transformed the city's economy. Architects now flirted with every style from Edwardian baroque to pared-down classicism on the grandest of scales. From the byzantine detail of Waterhouse's Refuge building to the cathedral-like space of the John Ryland's library, everything spoke of wealth and confidence, especially reflected in the re-building of the great Cotton Exchange itself, reputedly the largest trading room in the world. Ironically, by the time it was complete in 1921, the world had changed for ever and the star that was Manchester's cotton trade was already on the wane.
Lecturer's Profile
A senior modern languages teacher in an independent grammar school for many years, Brian Healey has also enjoyed a successful parallel career since the 1980s as a professional artist and interior designer. Since 2006 he has been regularly appointed to a number of prestigious ocean and river cruise lines, either as resident artist, guest lecturer on art history or as destination speaker for more than 40 countries. Most recently this work has successfully extended to art guiding through important towns and museums in France, Belgium, Holland and Spain
Further information on Brian Healey is available via his website.
Programme for the day:
10.15 am – 11.00 am Coffee
11.00 am – 12.15 pm First lecture
12.30 pm Two Course Sit Down Lunch
2.00 pm – 3.00 pm Second Lecture
3.00 pm – 3.30 pm Any Questions
Booking forms will be available at the December 2018  and February 2019 lectures  or you can download and print one here.
Caption: Staircase, Manchester Town Hall