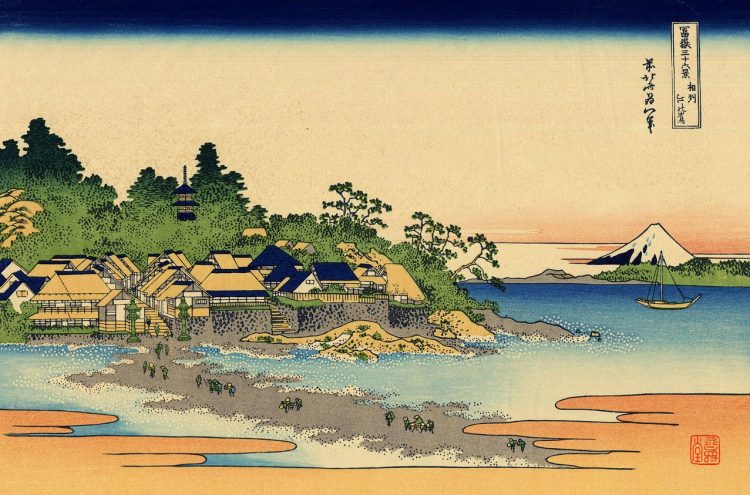 The Arts of Japan
Wednesday 21 March 2018
This Special Interest Day will be held at Fylde Rugby Club, Lytham St Annes on 21 March 2018. The day will comprise two lectures and lunch. Cost per person is £36.
Lecturer Dr Meri Arichi will lecture on:
Religious Art of Japan – Buddhism has exerted a profound influence on the formation of Japanese visual culture since its introduction in the 6th century to the present day. At first the development of Japanese Buddhist art was strongly influenced by the Chinese artistic tradition, but the styles were gradually transformed to reflect the native aesthetic ideals. The diversification of Buddhist sects also encouraged variety of architectural styles, sculpture, paintings and ritual objects. In this first lecture, we will examine two contrasting styles of Buddhist Art: The Art of Pure Land Buddhism with its sumptuous interior filled with golden buddhas, and the Art of Zen that is characterised by austere simplicity.
Secular Art of Japan – The rise to power of the military over the Imperial and aristocratic rulers in the 13th entury shifted the emphasis gradually from religious to secular arts. The economic prosperity led to flourishing trade and industry, particularly during the long period of peace established by the Tokugawa Shoguns from the 17th to the 19th centuries. The patronage of Shoguns and local lords was the main impetus behind the development of a lively market for luxury goods such as painted screens and scrolls, lacquer objects, ceramics, and textiles, but affluent townspeople were also enjoying the abundance of works of art. Improvements in woodblock printing technique brought affordable "Art" to all strata of society.
Dr Meri Arichi studied Art History in London and Florence, and worked at Christie's in Kings Street, London, from 1989 to 1993. She returned to university to study Asian Art at School of Oriental and African Studies (SOAS), University of London in 1993, and completed a Post-graduate Diploma in Asian Art (1994), MA (1996) in History of East Asian Art, and PhD (2003) for her thesis on Shinto-Buddhist syncretic Art. She has been teaching History of Japanese Art in the Department of History of Art and Archaeology at SOAS as a Teaching Fellow since 2007. She has also run courses at the Birkbeck College, V&A, British Museum, and the Courtauld Institute of Art Summer School. She has led tours to Japan and lectured on cruises.
Booking forms will be available from the December 2017 lecture onwards or you can download one here.
Further information: Programme Secretary Email: hamilton.lytham@gmail.com
Below are some photos from this event.